Top-quality Fermented Seasoning
Soy Sauce
Traditionally aged, rich and flavorful Japanese Soy Sauce
Salt
Pure Rock Salt with specialized white soy sauce and Hon mirin
Miso
Umami miso made from mixing then fermenting several types of miso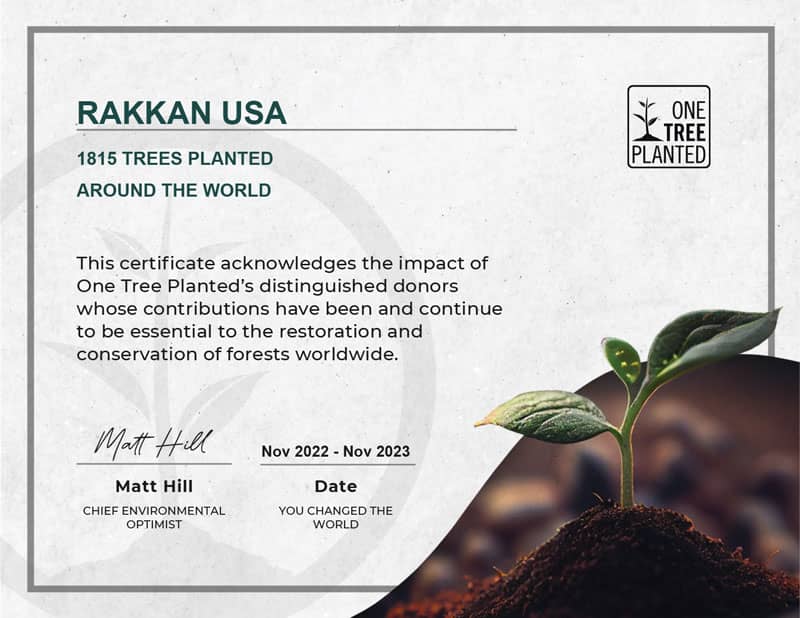 Our Commitment to Sustainability
For World Vegan Day, RAKKAN Ramen planted one tree for each bowl of vegan ramen sold. In 2022 – 2023, we have planted over 1815 trees in our commitment to sustainability and are continuously working towards creating a better environment.
Authentic Japanese food, ready for the world
RAKKAN began as a small, 4-seater restaurant in Nishiazabu, Tokyo, in 2011. But our business had its eyes set on making real Japanese soul food on an international scale, hence our motto, Authentic Japanese food, ready for the world. Since the beginning, we struggled to consistently serve high-quality soup that would live up to both our expectations and our customers' standards, which created hardships along the way. Regardless, we have now expanded our business to multiple locations, allowing us to hone our craft to satisfy our beloved customers. Without the customer's support, we wouldn't have reached this point with our restaurant so we always appreciate their encouragement. 
Ryohei Ito
Founder
RAKKAN RAMEN
EST. 2011
We are honoured to have been chosen a top 100 among 50,000 ramen restaurants in Japan by "Hyakumeiten", one of the most popular Japanese food review forums.
RAKKAN was awarded as the TABELOG BEST RAMEN in 2012 among 725,000 restaurants in Japan.
Washoku has been honoured as a "precious, intangible, cultural treasure" by UNESCO in 2013. We as RAKKAN Ramen Japanese chefs will honour our culinary traditions and work to pass on the ramen cuisine to the next generation.