About our Founder and CEO, Ryohei Ito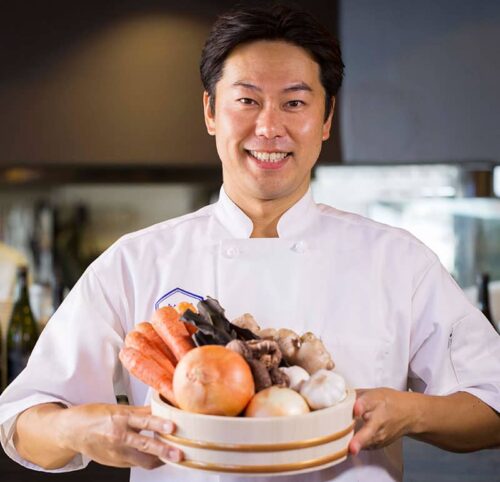 Since his childhood, RAKKAN chef and owner Ryohei Ito desired to have a creative outlet. This was rooted from his father's career as a manufacturing company owner in Japan. After witnessing his father's out-of-the-box creations and being taken to numerous camping trips in the wilderness, Ito was raised to be curious, to express his creativity, to have the inclination to travel the world.
After graduating from junior high, Ito tried his hand in the culinary world. He enrolled in a specialized culinary high school and studied subjects like cuisine and creative design. Upon graduating, Ito became employed as a chef at a Spanish restaurant in Tachikawa, Japan.
After gaining some income, Ito quit this job to become employed as a chef on a cruise ship run by a global nonprofit organization called Peace Boat. He was one of 50 chefs on the cruise from all over the world and served over 1500 customers. From having to learn English from scratch to building relationships with those from various cultural backgrounds, working for Peace Boar was a unique, educational experience for Ito. This furthered his desire to not only express creativity through cooking but also travel the world. While working on this trip, Ito traced the globe twice. Calling himself the "chef adventurer," Ito visited more than 50 countries and tasted countless cuisines during his employment there.
After his experiences with Peace Boat, Ito began to tackle the next stage of his culinary journey. While studying and visiting numerous cultures and their cuisines, Ito realized that there is little authenticity in the food of many Japanese restaurants in the world. Instead, "Japanese-inspired" or "Japanese fusion" became a primary description for Japanese food. Thus, Ito became aspired to bring authentic food from his country to the world and chose ramen, Japan's soul food, as his tool.
Ito first opened a miniature ramen shop in Nishi Azabu, Tokyo. Here, Ito decided to never cut corners with his ramen and chose to only utilize high-quality Japanese ingredients. He traveled all over Japan to pick the finest, healthiest food components to create his dishes, avoiding fatty, artificial, or chemical content like MSG. After extended trial and error, Ito's small shop began to find a long line outside its doors and even gained attention on media platforms from its bowls. His culinary dreams began reaching their peak.
Four ramen shops and one franchise later, Ito decided to move into the United States to promote his ramen recipe on an international scale, He established RAKKAN USA Inc followed by RAKKAN USA Franchise LLC, with a concept slogan of the "Healthy and Tasty, Our ramen is made with 100% plant-based broth."
Although, a flexitarian himself, Ito strongly supports non-animal products and believes the choice we make about what we eat, where it comes from, and how it's made has a direct and powerful impact on the health of individuals, communities, and the planet.